Stewart Concrete offers a variety of livestock watering options:  Including our popular freeze-proof models,  various concrete tanks, and we also carry an extensive line of Mirafount Polyethylene waterers. 
Whatever type of livestock watering project you are planning, Stewart Concrete can provide you with the best solution.
Whether you are building a pond, feed lot, or an intensive grazing operation, our knowledgeable representatives are available to assist you in making the best choice for your application.
Freeze-proof Concrete Waterers
Our freeze-proof concrete waterers are the best in the industry.  With both a single-sided and double-sided option, these waterers can be used to meet a wide range of livestock watering needs. 
Our high quality products may be used on ponds, rural water, or individual wells. 
With over forty years of proven reliability, our waterers continue to give our customers years of trouble-free service.
Easy access to valve assembly through insulated aluminum access panel
Includes complete brass valve assembly
Has a capacity of 250 gallons and will handle up to 100 head of livestock
Equipped with overflow valve for added ice prevention
Comes completely assembled as one unit
Optional side-wall wings for added protection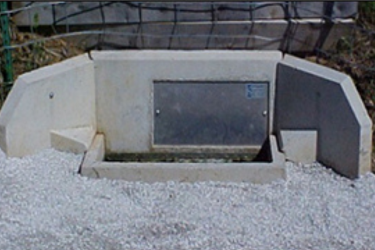 Equipped with energy free automatic ice prevention system: The fully adjustable thermostat will automatically be activated in extremely cold conditions, discouraging freezing, without electricity.
Uses less water: The thermostat automatically switches the over flow valve on and off, which greatly reduces the amount of water used compared to the manual ice prevention systems.
Great for rotational grazing projects: When placed in a fence row, the double waterer will provide water to two separate pastures.
NOTE:  Stewart Concrete freeze-proof waterers qualify for most state and county conservation projects.  Contact your local soil and water conservation district office for potential cost share programs available.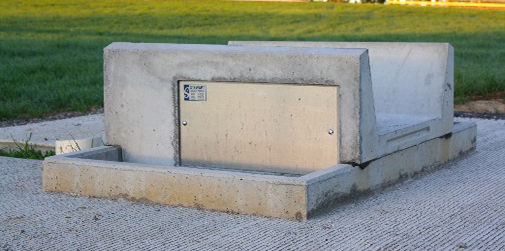 Stewart Concrete is an authorized MiraFount dealer. 
We stock several different styles of ball-type energy free and open top waterers. 
Contact us for a complete list of waterers available.
We also stock 6' x 6' concrete pads which are used as a platform for the poly waterers, as seen in the picture. 
These pads are 6" thick and have a preformed 15" or 18" hole to accommodate the required heat well.